SLC SmartOne - A smart control system for lighting
SLC SmartOne is an open control system with traditional components, made smart. The SmartOne products function as a stand-alone solution right out of the box, but can also use together with an overlying smart home system of their choice.
---
Open protocol
SmartOne system communicates on an open Zigbee protocol that can also be used by the largest SmartHus players on small. It does on our SmartOne products that I look good with other smart systems and you do not want to limit what is in a closed system.

TouchLink
All our SmartOne products can be easily controlled wirelessly using TouchLink - completely without the need for a smart home system.
Professional lighting
The SmartOne system can also communicate wirelessly on a DALI Bus or 1-10V to cover all needs in professional lighting.
Complete solution
The SmartOne system covers all types of needs in small and large lighting installations. We offer professional control units for everything from dimming of downlights, ceiling lamps and outdoor lights, to installations with LED strips.
Mesh-nettverk
All SmartOne devices with fixed power supply act as repeaters for all devices that are connected in the same system. Devices on battery will only link to the mesh network. In short, you can mount SmartOne products anywhere in the house, and they will automatically create a mesh network for better range.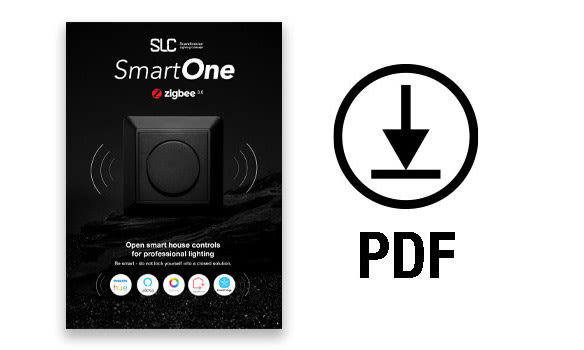 Download Catalogue
See all of our SmartOne products in our brand new catalogue. Read online or download as a PDF.
Learn more about SLC SmartOne
Learn more about SmartOne and the Zigbee protocol for professional light control. Click on the button below and we will send you information about our
online SmartOne session!