How we lit a modern holiday home
For this project, The Light Group has proudly supplied LED strips, Downlights and Control products. Our customer: Lyskomponenter, completed the project together with T. Mykjålands Elektriske i Søgne and owner of a holiday home. Owner wanted the new holiday home to have functional and good lighting indoors, while the visual expression should appear modern, innovative and different. Outdoors, there was only one wish: the lighting should be as hidden as possible - but give good light!
Here is the result: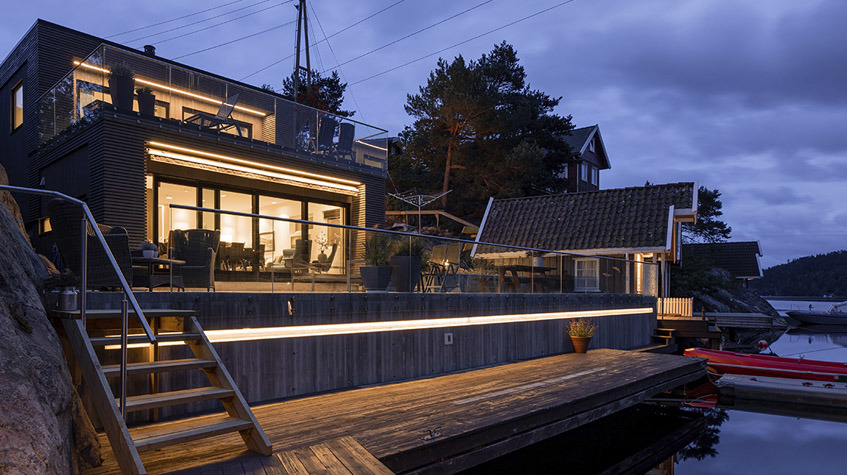 Under the cornice on the first and second floors
When the desire was as little visible light as possible, the choice fell on LED strips. These are laid in black profile with black cover to go as much as possible with the dark gray color of the wall and ceiling.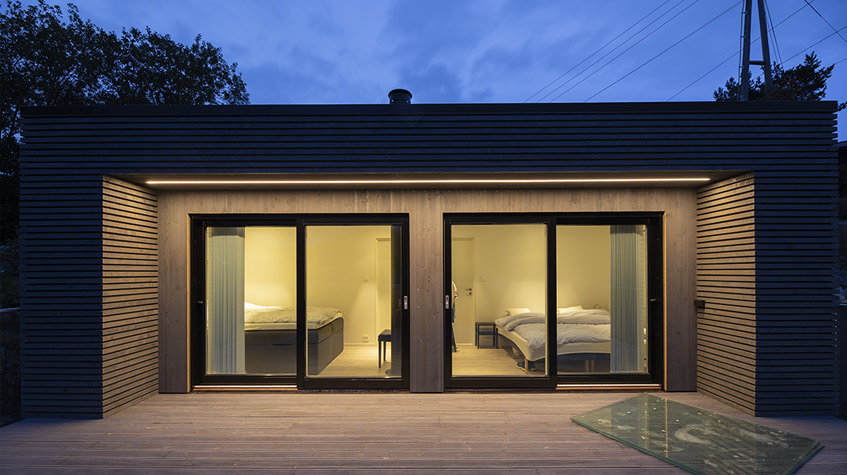 Product selection and technical information:
A2 recessed profile // Opal cover // End pieces.
LED strip: HD 14W with 280 LEDs per meters (2700K / IP67 *). The density between the diodes allows one to mount the LED strip low without seeing the diodes. * IP67 is available on request.
In this case, a 6 meter LED strip (14W / m x 6m = 84W) and 100W driver are used. The driver and controller can be selected based on the desired control signal; rear edge, Dali or 1-10V. NB! If you exceed 100W, you must select a separate driver and controller.
Entrance
The recessed profile is used because it has a flap that allows the wood to move slightly.
The solution under the stairs came under installation when profiles and LED strips were leftover from the cornice. The profile was mounted to direct the light towards the mountain. This created a great staircase lighting.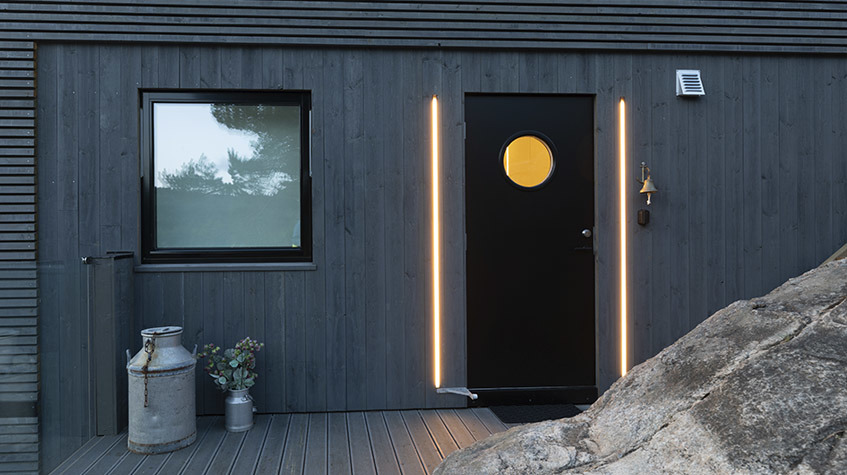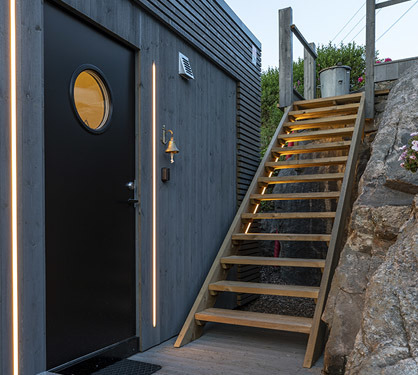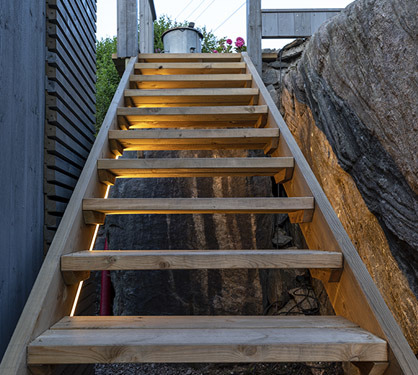 Sea shed
The same profile and LED strip as under cornice are used in the roof protuberance over the doors of the sea shed.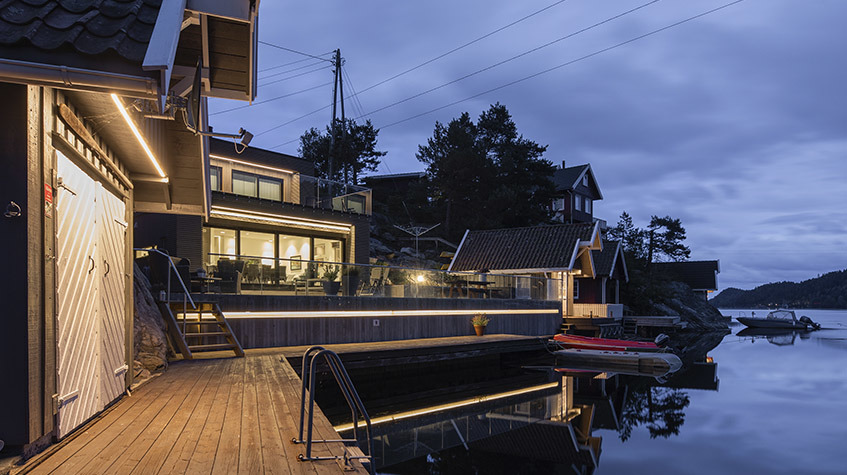 Embedded LED-strip in the pier front
Here, a niche has been taken out while casting the concrete. In this case, a corner profile was used (a standard profile can also be used).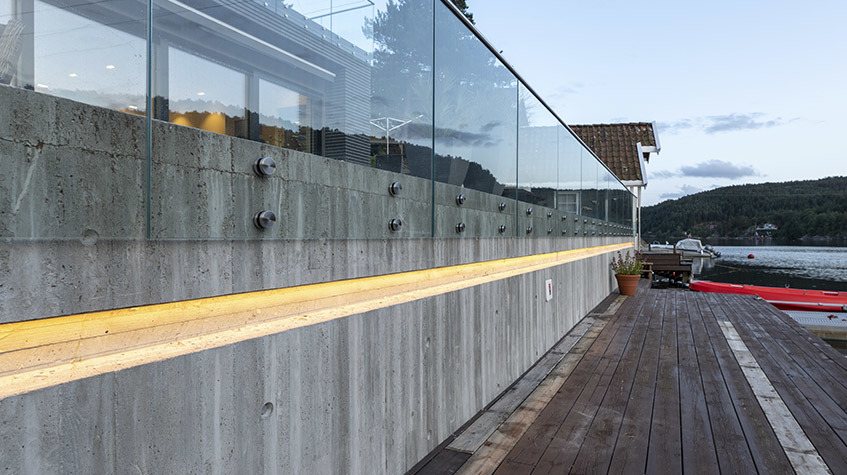 Product selection and technical information:
20 meter LED strip: 10 x C1 corner profiles // 10 x covers // 2 x end piece sets // 2 x 10m High Output 10W LED strip // 240W power supply // Driver with integrated controller.
TV niche
The lighting here is very pleased with the owner, not necessarily because it is better to watch TV, but because it highlights the niche element.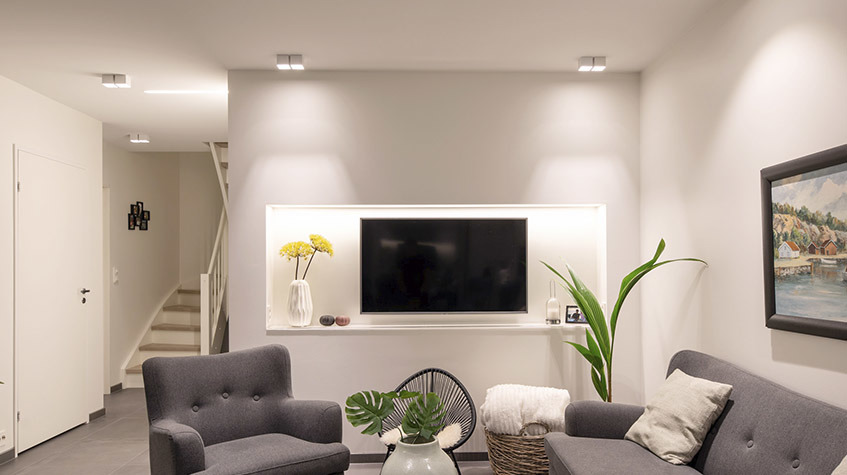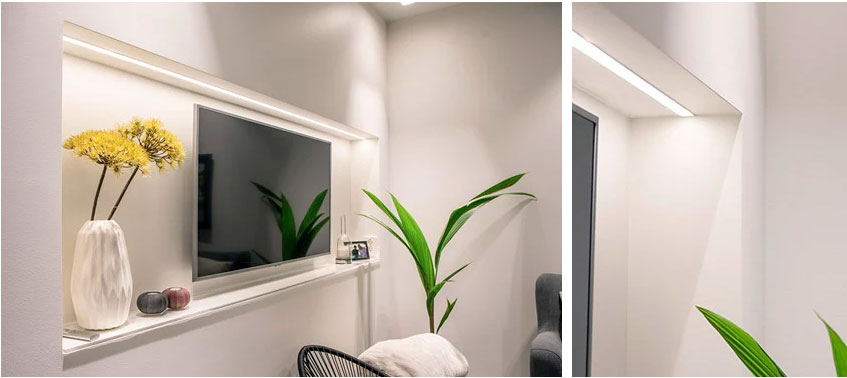 Product selection and technical information:
A1 Standard Low // Cover // End pieces.
When the profile protrudes 1-2 mm from the wall/ceiling, it was painted together with other surfaces. Alternatively, one could use A2 Recessed Low which has "wings" for embedding which creates a seamless installation with other plaster.
LED strip: 9.6W Standard CRI90 // 100W driver and controller.